Cynthia Lynn Sherwin Chair of Research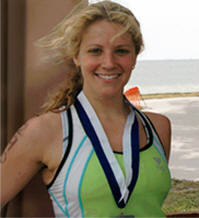 The Brain Aneurysm Foundation is pleased to announce the establishment of the Cynthia Lynn Sherwin Chair of Research. The Chair of Research is fully funded by TeamCindy, see www.teamcindy.org, which honors the life of Cynthia Lynn Sherwin and promotes widespread public awareness of the dangers of a ruptured brain aneurysm – the sudden and silent killer that took her life and the lives of tens of thousands each year.
Cindy was a dedicated athlete, marathoner and triathlete. She was struck down at the young age of 33 while training for her first Ironman competition, Lake Placid 2007. TeamCindy enables and encourages athletes to participate in triathlon events in Cindy's name and to raise awareness and money to continue the fight against this deadly disease through The Brain Aneurysm Foundation.
TeamCindy was founded in 2008 with one athlete who ran in Cindy's name in the Ford Tempe Ironman. In 2009, five TeamCindy athletes participated in Ford Ironman Lake Placid. Ten TeamCindy athletes will participate in the 2010 Ford Ironman Lake Placid with other athletes scheduled to compete in the Escape From Alcatraz Triathlon in San Francisco and the Boston Marathon.
TeamCindy is committed to expand throughout the US and abroad in order to fulfill its mission to raise money for research into the early detection and screening of brain aneurysms.