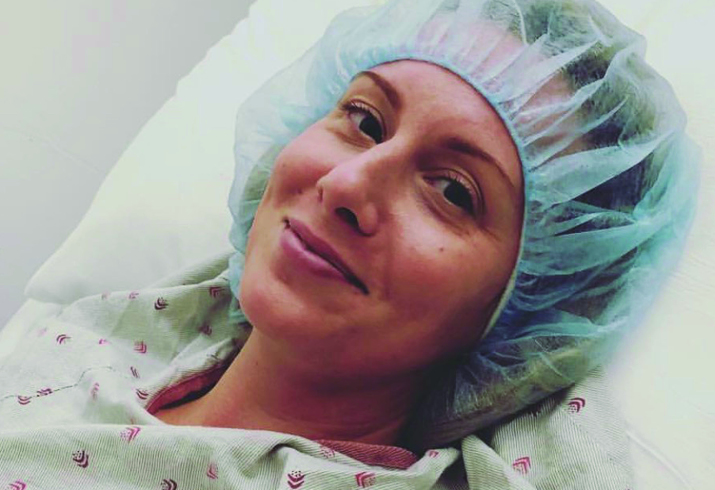 Seven years ago I was diagnosed with a 3mm un-ruptured brain aneurysm, which turned my life upside down. I hit my head on a ceiling fan while decorating a bedroom. I'm incredibly thankful to be here and I have no doubt that God was protecting me that day. My husband took me to the ER where doctors confirmed a concussion, and incidentally found the aneurysm. I continued to research my illness, found the BAF Facebook page, and lived a healthy lifestyle, along with the help of my amazing doctors who monitored me carefully. Because of the size, location, and my family history, I went with the "watch and wait" approach. I was able to do this for six years. It wasn't easy and took a lot of faith. Being a wife and a mother sometimes made it harder, and other times gave me the strength I needed to keep fighting.
Then,  just last April 2018, my routine head scan showed growth for the first time. Ten days later I was in surgery. This was the plan my surgeon had in place after all these years. My neurosurgeon was able to coil the aneurysm with no stent. I woke up relieved and ready to celebrate life, thankful that the worst was over.
However, I did have some complications immediately after the successful surgery. My body did not react well to the blood thinners that I was on to prepare me for the surgery. I ended up with a hematoma in my leg from the incision. It was scary but the nurses acted quickly, applying pressure and a very heavy sand bag on my leg for 9 hours. I needed a blood transfusion and I developed a pseudoaneurysm at the puncture site, which ended up healing up on its own after a week. I'm so incredibly thankful for each day. Philippians 4:6-7 got me through it all and kept me positive.