Rehabilitation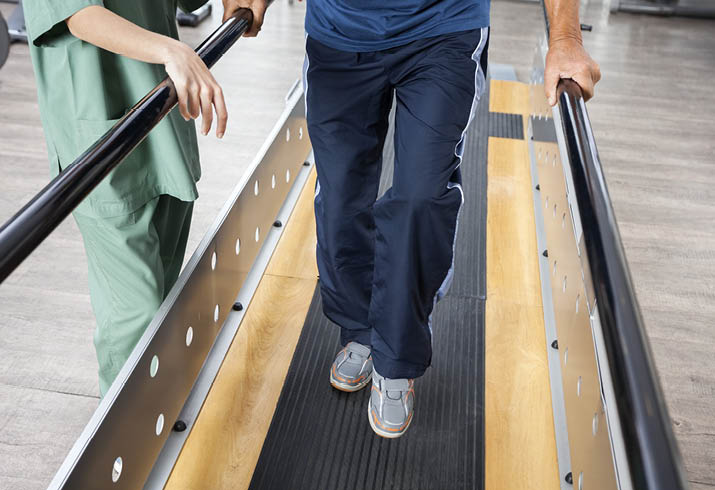 Recovering from a brain aneurysm is a major life event that continues long after discharge from the hospital.  Following a brain injury, patients often face a myriad of physical, emotional and cognitive changes, ranging from minor setbacks to major challenges with long-lasting impact.
Rehabilitation can significantly influence long-term recovery by helping patients learn new ways to compensate for abilities that may have been lost or impacted by their brain injury. Rehabilitation services include physical, mental and emotional treatments that help the injured brain make new connections.
Most rehabilitation programs focus on three types of therapies:
Physical therapy
Occupational therapy
Speech therapy
Physical therapy can help patients to strengthen their muscles, retrain their sense of balance and coordination and relearn certain movements.
Occupational therapy ensures that patients can carry out the tasks associated with daily living, such as feeding, showering, dressing, cooking and other activities that are part of patients' everyday routines.
Speech therapy can help patients relearn how to speak or swallow food.
Other rehabilitation services help patients to improve cognitive skills, such as memory or problem solving, and social skills to strengthen interactions with other people.
Members of the Rehabilitation Team
Rehabilitation includes a number of important caregivers who provide patients with comprehensive evaluation and treatment and work together to help patients recover and return to independent and productive lives. Team members may include:
Physicians
Nurses
Physical and occupational therapists
Speech-language pathologists
Respiratory therapists
Psychologists
Social Workers
Clinical Dietitians
Music and recreational therapists
Spiritual caregivers