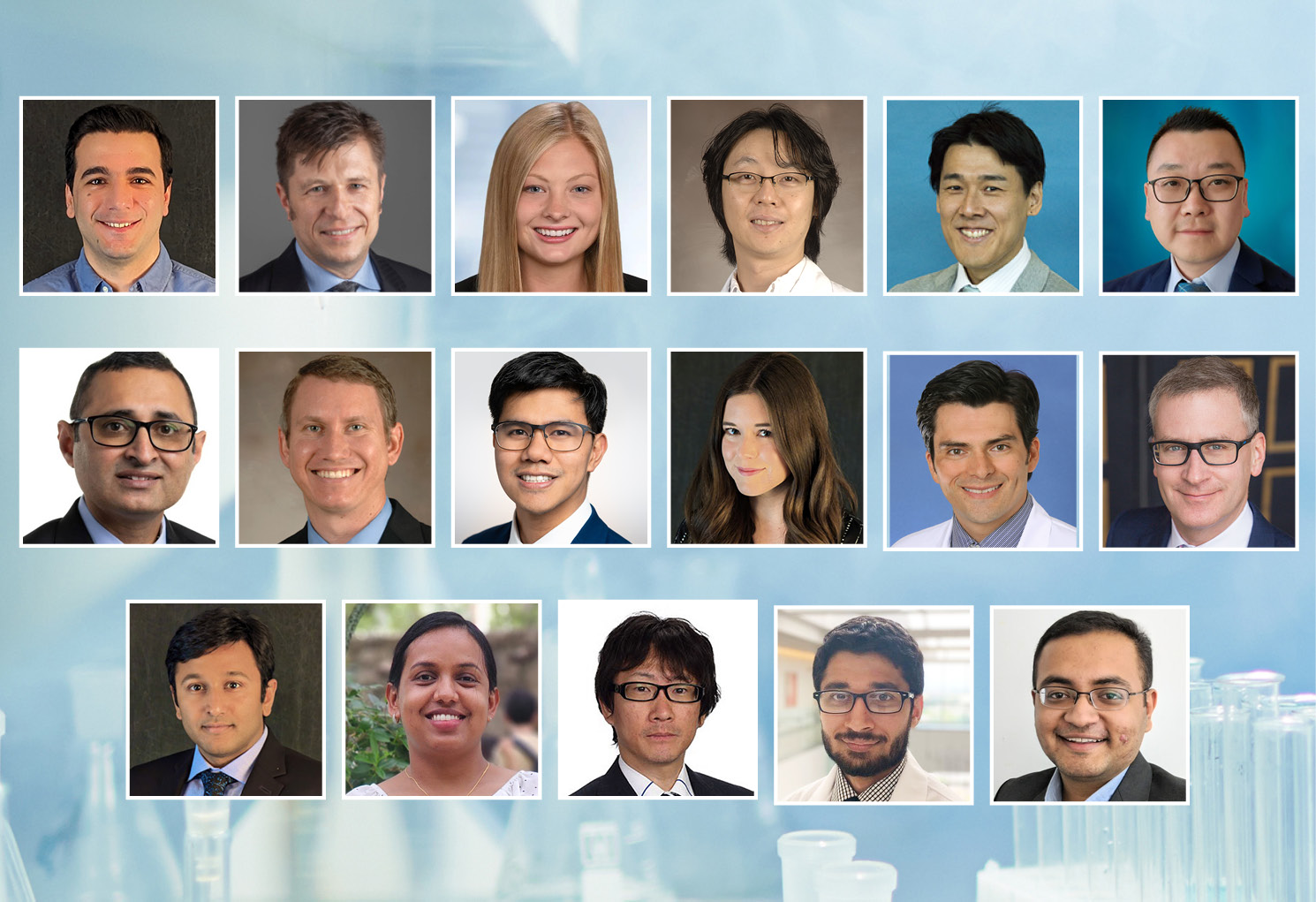 Provides Funding for 17 Research Efforts that aim to Address the Underlying Causes of Disease, New Treatment Paradigms and Key Markers of Ruptures and Hemorrhage
The Brain Aneurysm Foundation (BAF), the leading advocacy organization supporting education, research, and policy to transform the treatment of brain aneurysms, today announced the recipients of its 2023 research grants, providing support to academic researchers studying the underlying biology of aneurysms or developing new treatment methods.
This year's grantees include leading academic researchers from across the United States and Canada whose work includes efforts to develop biomarkers to better predict and develop potential therapeutics for aneurysms, understand the impact of genetics on rupture outcomes, and create new device technology, drug delivery and robotic approaches to evolve treatment.
Total Annual Research Funding Eclipses $5 million; BAF Kicks off its Annual Day of Engagement to Support its Mission of Reducing the Prevalence and Impact of Brain Aneurysms
"I am thrilled with the quality and relevance of the programs being led by this year's grant recipients. In each case we believe their work will directly support the field and build upon our understanding of why and how aneurysms form, who they are more likely to impact, and how to continuously improve treatment," said Dr. Christopher Ogilvy, M.D., Director of Endovascular and Operative Neurovascular Surgery at the Brain Aneurysm Institute at Beth Israel Deaconess Medical Center. "This research will have a significant impact on our understanding of the underlying causes of the disease and in creating better treatments and tools as we continue to better identify and treat those facing a potentially deadly rupture."
The awards were announced today at the organization's 17th Annual Research Grant Symposium held in Charleston, South Carolina. Overall BAF grant giving has now eclipsed $5 million. Research grants are a cornerstone of the organization's mission, as it works to fund critical advances at a time where Federal dollars for brain aneurysm research amounts to just over $2 for every person afflicted.
"We believe our contributions play an essential role in advancing science and the development of new innovations that will contribute to reducing the prevalence and impact of brain aneurysms," said Christine Buckley, the BAF's executive director. "These early grants are key to fostering an ecosystem that brings ideas from academia to the clinic with the goal of transforming patient care and saving lives."
Today is also the BAF's 2nd Annual Day of Engagement, a 24-hour global day of philanthropy and advocacy where all members of the Brain Aneurysm Foundation community can come together to support and advance the organization's mission by making a gift, attending regional events, or sharing stories through social media to help increase awareness and educate others on the signs, symptoms, and risk factors of brain aneurysms.
It is estimated that one in fifty people in the US have a brain aneurysm, with more than 30,000 people suffering from ruptures annually, of which half are fatal. Moreover, studies show that between one and four percent of all people who go to the emergency room for a severe headache, in fact, have a ruptured aneurysm, though approximately 25 percent of those will be misdiagnosed or have a delayed diagnosis.
The BAF recently introduced a new campaign called "Stop the Pop" which aims to build awareness of the symptoms, genetic and environmental risk factors, and to increase research funding to better understand the underlying causes of the condition and to advance new treatments. A brain aneurysm is a weak, bulging area in an artery in the brain that in some instances can rupture. Blood then spills into the space between the skull and the brain, which is a serious type of stroke known as a subarachnoid hemorrhage. While brain aneurysms are most prevalent in people ages 35 to 60, they can also occur in children. Women over the age of 55 have a higher risk of brain aneurysm rupture than men and are generally at greater risk. Ruptured aneurysms are also seen at higher rates in African American populations.
2023 BAF Research Grant Recipients:
Dr. Edgar A. Samaniego, MD, MS, University of Iowa
Radiomic Characterization of Brain Aneurysms
Khalid Malik, PhD, Oakland University
Integrating Federated and Neuro-Symbolic AI for Improved Aneurysm Detection and Rupture Prediction
Sri Veeturi, PhD, University of Buffalo
Exploring the Relationship Between Imaging- and Blood-Based Aneurysm Biomarkers and the Pathobiology of the Aneurysm Wall
Dr. Joelle Hartke, MD, Barrow Neurological Institute
The Effect of Growth-Arrest Specific 6 on Intracranial Aneurysm Formation and Rupture
Dr. Hiroki Uchikawa, MD, PhD, Barrow Neurological Institute
Clonal Hematopoiesis of Indeterminate Potential in Intracranial Aneurysms
Husain Sodawalla, PhD, Northern Arizona University
Development of an FDA-Approved Benchtop Model for Delayed Aneurysm Rupture (DAR) Studies
Dr. Peter Czarnecki, MD, Beth Israel Deaconess Medical Center
The Role of Polycystic Kidney Disease Gene Variants in Brain Aneurysm Development
Omid Asgari, PhD, Northern Arizona University
Development of a Novel Balloon-Mesh Device to Improve the Embolization of Aneurysms
Sophia Robertson, BS, Northern Arizona University
Development of a Novel Biocompatible Polymer Coating for Aneurysm Treatment Devices
Dr. Naoki Kaneko, MD, University of California, Los Angeles
Advancing Brain Aneurysm Treatments with Robotics: An Investigation into the Effectiveness of Robotic Assisted Endovascular Procedures
Seungil Kim, PhD, University of Pittsburgh
Evaluation of Healing Progress in the ECM-based Injectable Embolic Delivering Therapeutic Proteins in a Murine Cerebral Saccular Aneurysm Model
Dr. Abdelsimar Omar II, MD, University of Toronto
Revisiting the Comparative Effectiveness of Clipping versus Coiling for Aneurysmal Subarachnoid Hemorrhage (aSAH) with Big Data: A Population-Based Analysis using the Target Trial Framework
Sithara Thomas, PhD, The University of Texas Health Science Center at Houston
Elucidation of Role of HDAC2 in Epigenetic Repression of Blood Barrier Genes During Subarachnoid Hemorrhage (SAH) in Mice: Protective Effect of Overexpression of its Target (ZIC3)
Sungha Hong, PhD, The University of Texas Health Science Center at Houston
Role of TRPV1 in Rescuing Global Ischemia Following SAH in Aged Mice
Dr. Scott Simon, MD (James Connor, PhD), Pennsylvania State University
Impact of Genetic Variation in Iron Metabolism on Aneurysmal Subarachnoid Hemorrhage Outcomes
Devin McBride, PhD, The University of Texas Health Science Center at Houston
NETs as a Biomarker of Delayed Deficits after SAH
Devin McBride, PhD, The University of Texas Health Science Center at Houston
Neutrophil Phenotype Predicts Delayed Deficits after SAH