Kati Lorge Chair of Research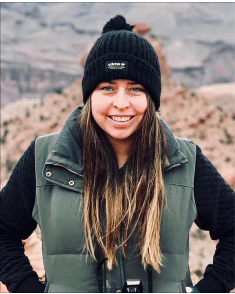 Kati Lorge knew she had a brain aneurysm for only a couple of weeks. On September 5th, 2020 at the young age of 28, she passed away from the result of that aneurysm. She was loved by family, friends, co-workers, her life partner, and her dog Macklin. Kati's love of life was highlighted in everything she did. She loved spending time with her friends and family no matter how far she had to travel or what the adventure was. She primarily loved to travel. Iceland, Europe, Vancouver, a road trip from Arizona to Utah, to driving from Wisconsin to Yellowstone National Park, was only the beginning of her travels, plus many other journeys.
It is through The Black Heart Traveler (@blackhearttraveler) that we try to carry on Kati's legacy to take her with us on our travel adventures no matter how big or small. The goal behind this project is to purchase the stickers (two options) and take a picture with them somewhere you have traveled and then post to social media tagging @blackhearttraveler. We want to see how far across the world we can reach and share Kati's story. We have a map on the Instagram/Facebook pages to show all the pictures. The Kati Lorge Chair of Research was funded by the proceeds of the stickers and other donations.
Kati lives on through her family, friends, and complete strangers traveling across the globe sharing her story and her love of life. When she would be asked, "what is your favorite vacation?" her response was always, "the next one."