Please join us as we gather together with friends, family, and fellow survivors to raise awareness and much needed funds for brain aneurysm research. This event funds the annual Cynthia Lynn Sherwin Chair of Research grant. Since its inception, TeamCindy has distributed more than $800,000 in grants that enable the brightest minds in the neurological field to continue their vital research.
Sign up as a participant to get an event t-shirt, some great branded swag, and a chance to win awesome sponsored prizes. This special 5K walk/run is followed by an afterparty where we honor survivors and loved ones, announce our prize winners, and wrap it up with a "silent disco" dance party with music by DJ Bastic! Refreshments will be provided.
Adult registration fee: $35
Includes event t-shirt if registered by 8/18/22
Youth registration fee: $15
Youth registration is only required if you want to receive a youth size t-shirt.
Children 12 and under attending with a parent who will be walking are free.
---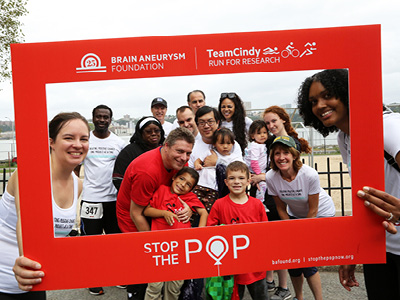 Join in the fun in 2022!

To make a donation by check to the event, please click here to download the form
For more information contact TeamCindy: Info@TeamCindy.org
If you are interested in sponsorship opportunities, please click here